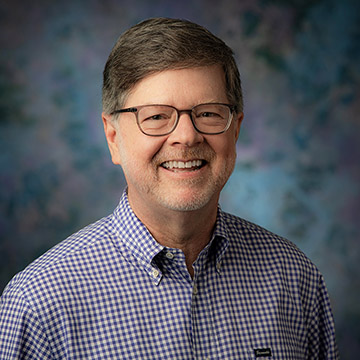 Dr. Phillips obtained a B.A. degree in chemistry and a medical doctorate degree from the University of New Mexico. Following an internship and residency in obstetrics and gynecology at the Maricopa County Medical Center in Phoenix, he became board certified in 1989. He is certified by the Accreditation Council for Gynecologic Endoscopy, is a fellow of the American College of Obstetrics & Gynecology and is certified in robotic laparoscopy.
A speaker and presenter at the American Association of Gynecologic Laparoscopy on Endometrial Ablation and Hysteroscopic Sterilization, he has also spoken on the topic of laparoscopic techniques in gynecology. Dr. Phillips has been with Desert West since 1987.
Dr. Phillips grew up in a smallish town in New Mexico. His father was an OB/GYN and the family would run into his patients at the store or at a game. Mothers and families were so pleased, proud and joyful to show off their kids to him and him to their kids. "That's the doctor who delivered you" was a common refrain when they were out and about town. Although his sisters thought that their dad worked too hard, Dr. Phillips always felt like he made it to the game, swimming meet, band concert or other important activity. And that, he believes, is what set him on the path to also be a physician.
In medical school, Dr. Phillips kept his specialty options open, but after having a very busy OB rotation and the thrill of delivering many babies, OB/GYN became more attractive. He's not sure anyone gets into OB/GYN thinking, "I'm going to do pap smears all day"; the delivery part is what draws people to it. The additional factors of the intrigue and challenge of surgery, of primary care, and long-term patient relationships also make it a great specialty.
After 30 years at Desert West (and many deliveries in training and medical school the 6 years prior), he feels truly blessed to have been a part of thousands of pregnancies and the emergences of new life into the world. What a privilege it is that families let their obstetrician into such an important event. For several years now, he has been fortunate enough to be delivering the second generation of patient's babies. You really know that you have matured as an obstetrician when you start delivering patients that you delivered. Another great part of working the same place for a number of years is the long-term relationships with patients. There are very few specialties where you get to see and reconnect with patients year after year. Sometimes patients return after 3, 5, and even 10 years but it seems time has flown by and it hasn't really been that long. It is really great to continue to see "old friends" in the office.
Dr. Phillips and his wife are very proud of their three sons who have become fine young men, working in marketing and advertising, music and teaching, and business and real estate. They support high school music and a couple of the foster and crisis children's programs in the Phoenix area. He enjoys reading and always has a book or two going, usually mystery or intrigue or now sometimes travel. With an empty nest, he finds it much easier to travel. Recently, Dr. Phillips and his wife visited the beautiful Galapagos Islands and saw thousands of birds, fish, iguanas and the giant tortoises.